Family traditions can have many purposes and prompt responses ranging from joyful anticipation to sorrowful remembrance. In most cases, traditions play a connective and formative role. Eva Carlston Academy reviews what makes family traditions so important, especially in childhood and adolescence.
The consistent recurrence of traditions can provide comfort and stability in an ever-changing world, especially during the developmental stages. Traditions can also strengthen cultural values and family bonds, support personal identity formation, and promote a healthy work-life balance.
Trimming the Christmas tree as a family, getting ice cream together on Saturdays, or singing Grandma's favorite song on the anniversary of her passing can make such a big difference in family bonds.
What Makes a Family Custom
While many people associate traditions with long-standing practices passed down for generations, not every ritual began with Great-great-great-grandma. Rather, a family tradition is simply an event or custom that begins somewhere within the family unit and is repeated regularly in the family setting. In a way, it is a family's own small-scale culture.
Though many family traditions coincide with annual religious celebrations, birthdays, and national holidays, others take place on a weekly or daily basis, or at some other regular interval. Almost anything that a family considers significant and repeats regularly can become a tradition.
For those with contentious family relationships, those who have experienced the loss of their closest family members, and those who live too far away to create meaningful and consistent family customs, creating traditions with friends who act as "chosen family" can offer many of the same social and health benefits as those that unite blood relatives.
The Value of Rituals
While celebratory traditions often become happy shared memories, other traditions may be important reminders of a solemn family event. Despite their different tones, both types of traditions have the ultimate goal of bringing people together. Creating and maintaining the human connections they promote is a critical part of living a happy, healthy, and balanced life.
One of the most common ways to mark a tradition is with a shared meal, which can take place a few times a year or on a weekly or even daily basis. Research has shown that making family dinners a regular occurrence can have a significant positive impact on a child's development, emotional well-being, and eating habits throughout life.
Sharing a meal with extended family members is also a great way to bring together loved ones who aren't in regular contact, as it involves temporarily setting aside other activities and devices that often distract from conversation. When it comes to relationships, quality, consistency, and depth outweigh quantity and breadth in promoting lasting happiness and feelings of security.
Making a collective decision to pronounce something as "tradition" can help break up the humdrum monotony of day-to-day life. It can also promote a healthy work-life balance, especially since the pandemic has recently blurred the lines between the family-focused home setting and the productivity-focused workplace.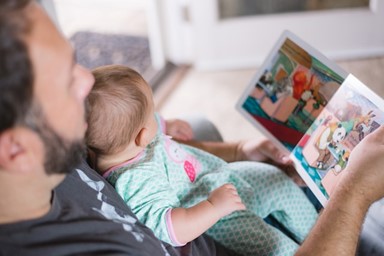 Examples of Regular Family Traditions
When it comes to defining traditions, there is no hard-and-fast rule as to what "counts" and what doesn't.
Families that practice a particular religion may observe liturgical holidays, fast days, feast days, or days of rest in accordance with their faith traditions. In addition to these more serious and religiously significant traditions, holidays that began as or have become secular celebrations can also provide an occasion for meaningful annual get-togethers or gift exchanges.
Here are a few examples of annual traditions that are particularly popular and widespread:
Trick-or-treating on Halloween
Giving gifts and blowing out candles on birthdays
Going out for dinner or giving gifts on Valentine's Day
Eating a ]meal with extended family on Thanksgiving
Hunting for eggs and giving treats to children on Easter
Giving gifts during religious celebrations like Hanukkah and Christmas
Telling tales of Leprechauns on St. Patrick's Day
Setting off fireworks on the Fourth of July
Visiting a loved one's grave on the day of their passing
In addition to these annual traditions, many smaller-scale traditions take place more frequently, including:
Reading bedtime stories to children
Praying before meals
Volunteering on a regular basis
Taking turns cooking dinner on different days of the week
Going out or getting take-out on certain days of the week/month
Family volunteering projects
Family game or movie nights
Seasonal fruit or vegetable picking as a family
Attending church services together
How to Create and Keep Family Customs
For many, the term "tradition" is tied to holidays, gift-giving, traveling, and catering for a crowd. While some people enjoy going all-out for such traditions, there's a limit to how often someone can reasonably find the time (and the money!) to plan and execute such elaborate celebrations. There's a reason that big holidays like Christmas only come once a year!
Luckily, however, not every tradition has to be so grandiose. In fact, many of the most meaningful traditions are fairly easy to organize, affordable to host, and variable in length. Things as simple as "Taco Tuesday," nightly prayers, and monthly family movie night are great ways to strengthen family connections on a recurring basis.
While family traditions can promote stability and connection, especially for those experiencing the stressful changes of adolescence, having too many traditions risks desensitizing family members to the importance of joining together. Finding a quantity and collection of traditions that appeals to everyone in the family may take some experimentation, creativity, trial, and error.
To promote the connection, comfort, and familiarity at the core of every family tradition, each participant should be encouraged to offer input on how to adjust and improve traditions to make them meaningful for all involved.
Conclusion
Family traditions are integral to identity-formation, especially during childhood and adolescence. Traditions can help to promote a healthy work-life balance and can become the source of many lasting memories. Whether their intent is festive celebration or remembrance and consolation, traditions strengthen human connections through their comforting familiarity and consistency.