Life is easier with a supportive family. Individuals, regardless of their age, require nurturing, soul-calming relationships with their relatives to bolster their confidence and give them the courage necessary to tackle life's challenges. Eva Carlston Academy reviews that well-documented studies show mental health and well-being are directly related to their familial bonds.
While strong family relationships are necessary at all stages of life, they are particularly important for teenagers, who often go through challenging and uncertain times.
Why Family Connections Are Important
Stability, mental growth, and overall well-being are dependent on family bonds. Without healthy connections, children can struggle to form relationships outside of their homes, leaving them scrambling for friends or partners later in life.
Strong families teach forgiveness and ensure all members know how to build and retain trust in others as they share both good and bad times.
On top of that, they provide children with valuable, healthy conflict-resolving techniques that will serve them well in many situations.
As for the adults in robust families, they benefit from feeling safe, connected, comfortable, and respected by the people they care about.
Strong Family Relationships and the Impact on Teenagers
Teenagers' relationships with their families change as they hit adolescence. However, they require as much parental and familial support as they did when they were young children.
Adolescence can be challenging. Not only does it bring physical changes, but also emotional ones, causing teens to feel unsure about where they fit in and who they are or want to be.
Furthermore, they may be weighed down by influences from their peers, pressure from school, and many other unique difficulties.
So, the presence of a secure, tight-knit family is crucial at this stage in their lives.
Strong family bonds provide a safe emotional base where teens feel appreciated and loved, regardless of the challenges they may be facing in the outside world. They can improve confidence and optimism while helping them establish their identity and build resilience.
Teenagers in families with clear boundaries, rules, and standards offer consistency and predictability, resulting in feelings of belonging and safety that they won't get elsewhere.
In short, robust family bonds give teens the tools they need to tackle whatever adolescence throws at them — which can be a massive undertaking.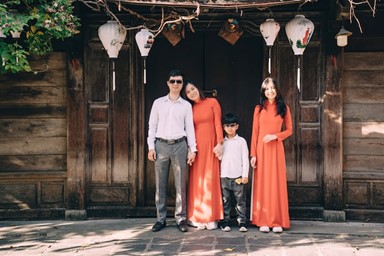 Steps to Building Strong Family Relationships
While the steps below may sound simple, it's easy to forget about these important aspects of family life, especially with external stressors. But experts encourage families to follow these seven tips for strengthening their bonds and giving every member safety, comfort, appreciation, and love:
Quality Time — Mealtimes provide perfect opportunities for families to sit together, catch up, and have a laugh.
Appreciation — Praise and gratitude go a long way.
Celebration — Cherish the uniqueness of everyone in the family unit, celebrating their abilities and strengths.
Communication — Always respect members' needs. If they want to talk about something, they deserve the space to allow them to express themselves completely.
Teamwork — Sharing household chores ensures every member feels acknowledged for their contributions.
Strong family relationships build resilient teens capable of overcoming setbacks and other life challenges which can support them throughout life. Having a strong family support system is vital for healthy social connections, tenacity, and confidence in themselves.